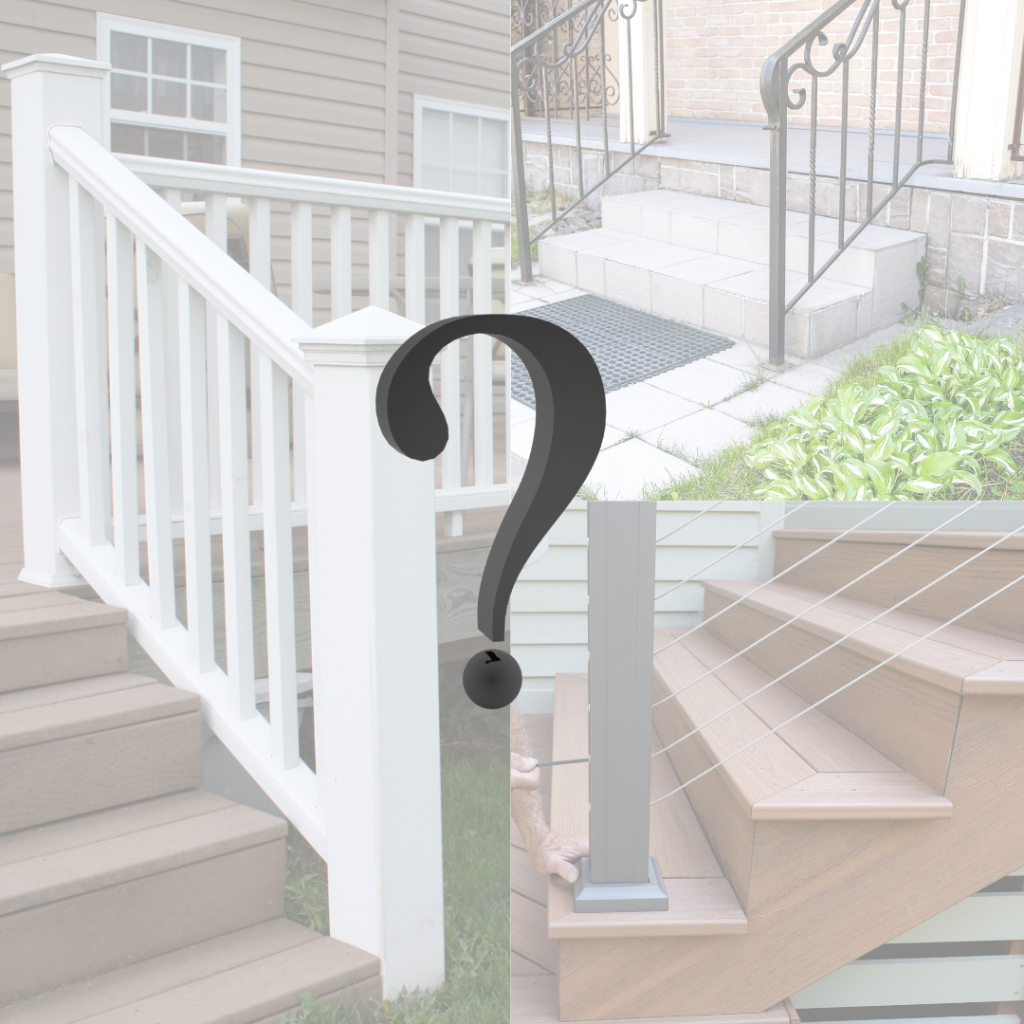 Did you just build a porch or a deck? Or are the railings on your front steps not working for your home–either functionally or aesthetically? In any of these scenarios, you will find yourself having to choose what kind of railings you want to install on your property. There are many different kinds of railings in a variety of materials and styles, so you may be surprised at how many options you can choose from. We put together this list of questions to ask yourself to help you choose the perfect railing for your home and simplify this part of the process.
1. What Style Am I Going For?
Style is something that is personal to you and to your home. Whether you like spaces that are more traditional, more modern, or something in between, you can use materials and shapes to help express that particular style and set a certain aesthetic tone for your space. Additionally, the same material can be styled differently to fit completely different looks. For example, if you like a more rustic or farmhouse vibe, you might want railings made of wood or PVC. Then again, a traditional or modern home might also have PVC railings, though the spindle shapes might be different, and one might have flourishes where the other gives off only clean lines. Wrought iron railings can work in several different styles, as well. Before choosing what material you are going to use, it's important to understand what look you are going for.
Then again, you may see something unexpected that you love and decide to go in a different direction. You never know!
2. What Material Do I Want to Use?
Railings can be made in a variety of materials, but the most common ones are wrought iron, metal, and PVC. Choosing the right material means thinking about what matches the rest of your house–do you have railings anywhere else on your home's exterior? What material or color are your window frames? What material and color is the overall exterior of your house? These factors will help you decide which material will look best against your home.
Aside from style, you want a material that functions the best for your needs. PVC railings are strong, durable, and maintenance-free. Cable and glass railings both allow for unobstructed views and a modern feel. Iron and aluminum railings need treatment to protect them from rusting–and we provide that treatment at Family Fence.
3. What Is My Budget?
Budget is an important part of choosing a railing. Different railing options come at different price points, and being clear about your budget from the beginning will help you narrow down your choices to ones you are financially comfortable with. How much railing you need to install also factors into your budget. If you are putting up railings in a small area, you may be able to spend a bit more. If you need a lot of railing, such as around a deck or on a long staircase, it may affect your budget differently. No matter how much you are willing to spend on this project, our experts will work with you to give you railings you love that fit your style and needs.
Family Fence Can Help You Choose the Best Railing For Your Home
At Family Fence, it is our mission to give you the best railing for your home, and that includes your style, needs, and budget. We will work with you to understand what you are looking for, and we'll expertly install your choice so it is long-lasting and beautiful.