Bufftech-SimTek Fences
5 Star Rated Reviews

Bufftech-SimTek Fence Installation Experts
SimTek Fence has reinvented fence manufacturing by implementing its patented design of a rotationally molded fencing process resulting in a realistic stone look as well as a natural wood look.
SimTek Fence is available in the Ecostone and Ecostone Plus as well as the Ashland series. These styles are manufactured with a proprietary Linear Low Density Polyethylene (LLDPE) blend which is reinforced with galvanized steel in every post and every panel.
SimTek Fence withstands wind gusts up to 110 mph. Certified to meet severe storms and high wind loads. SimTek Fence also makes an excellent sound barrier, reducing noise levels up to 90%.
SimTek maintains its stability in temperature extremes withstanding tests at -40° to 140° F. BEST OF ALL, SimTek Fence is shatter proof as well as Graffiti resistant. You can easily remove graffiti using a high-powered pressure washer.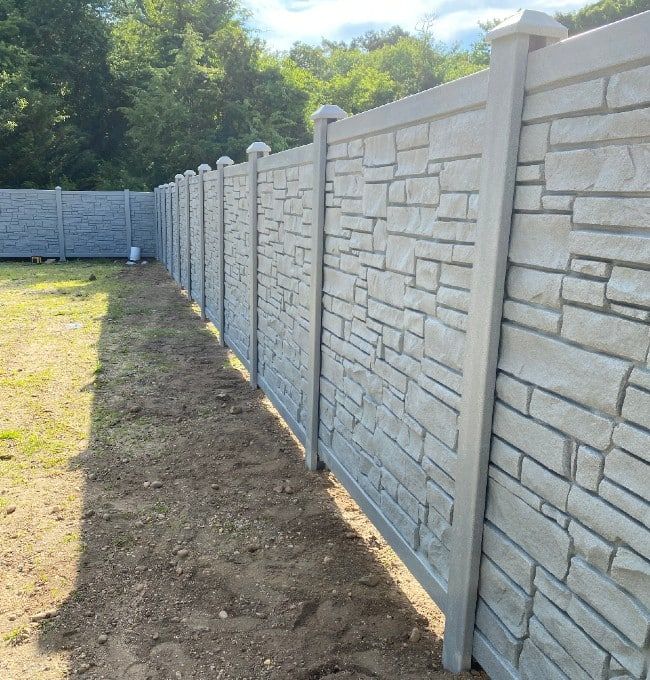 Lifetime Warranty for Your Fence
SimTek Fence is proud to offer one of the best warranties in the industry including a lifetime warranty on the Ecostone Plus product. For additional warranty information or more information about SimTek Fence give Family Fence a call today!
Our Bufftech-SimTek Fencing Solutions
We Provide Top Quality Chain-Link, Wood & Vinyl Fencing
Family Fence is a Proud Dealer of these Fine Fence Products